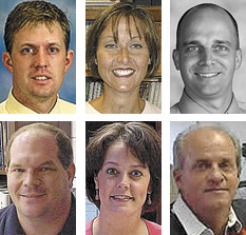 Career education in Walker Country Schools will be in high gear next fall as the leadership of Superintendent Melissa Mathis's is also stepping up with the promotion of his most trusted and excellent professional leaders to more challenging roles in the county. The exciting change in leadership of its personnel is now touted as an excellent build up of the school to become the leader in education – just like the improving online university degree in many countries in the US and Europe. Mathis's deep leadership strategy giving more challenging roles to her qualified administrators is now a welcome development for everyone in the institution. Since veteran school principal Geneva Weaver, who had served the county for more than 30 years, it's now high time to move ahead. Assistant principal Brandon Mosgrove of LaFayette Middle School Sixth Grade Academy is transferred to Stone Creek Elementary as the school's new principal. Mosgrove is also Mathis's top performer educator which started his career back in 2000 at the Chattanooga School for Liberal Arts. A year later, Mosgrove was transferred to Chattanooga Valley Elementary as Lab instructor for math. Mosgrove finished his degree in education at the University of Tennessee and his master in science degree at Capella University.
Amy Ashley is now going to Stone Creek as an academic coach and assistant principal. Ashley started her career in 2001 at Chattanooga Valley Elementary and she also participated in a math institute for elementary, writing and guided reading, learning resources and learning focused schools for math. She was very well recognized when she organized the first math bowl team at CVE. She holds a degree in BS in elementary education at the University of Tennessee at Chattanooga. She also finished her master's degree in elementary reading at Walden University and her Ed.S in administration and supervision at Lincoln Memorial University. Just like the online courses offered in other universities, Lincoln is also a university with excellent course offerings.
The third to be promoted to top position is Mr. Michael Scott Sizemore to become the new assistant principal for Lafayette Middle School Six Grade Academy. Sizemore is more dependable in math and science and social studies, computer applications, programming, physical education and health. He is the current director for athletic at the Gordon Lee Middle School. Sizemore finished his BA in early childhood education in West Georgia and his specialist and master's degree at Lincoln Memorial University. Other top leaders that Mathis is eyeing for more challenging positions are Kevin Richardson, Rossville Elementary; Robin Guinn Samples, incumbent assistant principal; Chris Sikes, Walker County Alternative Education Center principal. Superintendent Mathis said all these people are exceptional and they have each very amazing qualification to lead the schools.